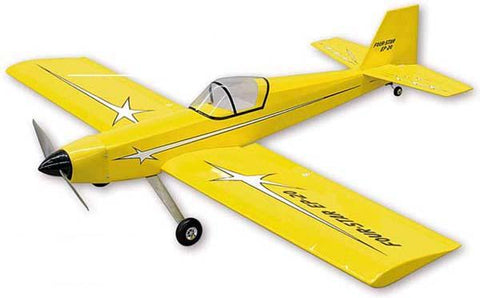 SIG FOUR STAR 20 EP
Item Number: SIGRC106
Building on the 20-year reputation of the original Four-Star line of great sport airplanes, we bring you this highly requested version designed for electric power. Like it's older siblings, it retains the easy and relaxed flying characteristics of the Four-Stars.

Open the throttle and increase the control throws and it will do about any wild maneuver your thumbs can dream up.Add to this the portability of a smaller size and the quietness and convenience of electric power and you have another winner for sport flying. 

While designed for electric power it is configured to easily convert to glow engine power in the .15 to .25 engine range so you have the best of both worlds.

KIT FEATURES
Full Size Plans
Laser Cut Parts
Lightweight Balsa Construction
Fast Building Wing
Tab locked fuselage
Photo Illustrated Assembly Manual
Durable Aluminum Landing Gear
Molded Canopy
Molded Cowl
SIG Easy Hinges
Large Decal Sheet
Pushrods
Hardware pack