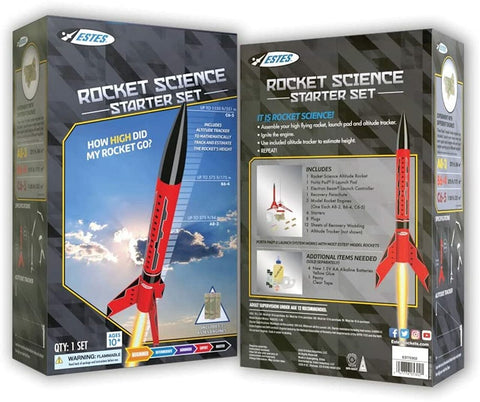 ESTES ROCKET Beginner Science Starter Set
Includes an easy to assemble rocket with all pre-colored parts, launch equipment, three different engines, four starters, eight starter plugs and 12 squares of recovery wadding! Everything you need to conduct your very own "STEM experiment"!
LAUNCH SYSTEM INCLUDED.
INCLUDES 3 ENGINES! (1 A8-3, 1 B6-4, 1 C6-5)
Discover how you can have FUN with STEM (Science, Technology, Engineering and Math)! Build the "Rocket Science" model rocket, launch with one of the three engines included and observe as a reaction occurs to make this rocket soar! You will get to be a "Rocket Scientist" as you experiment with the other two included engines to see how high your rocket will go! Powered by Estes standard model rocket engines (also sold separately) this rocket can soar up to 1100 feet. We've also included a simple to build altitude tracker to help you measure how high your rocket goes and can be used again and again!