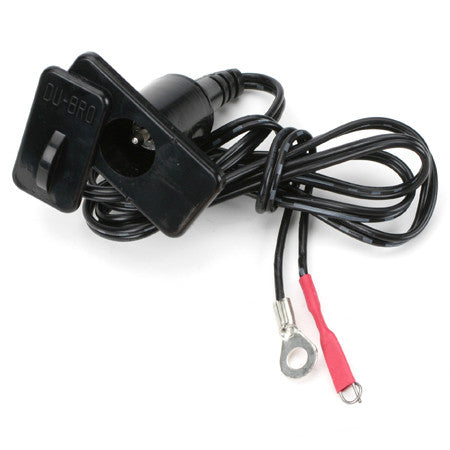 DUBRO REMOTE SAFTY IGNITOR
Item Number: DUB793

This is a Remote Safety Ignitor (Remote Glow Ignitor) for In-Cowl Engines.
This provides an external glow driver socket that is wired directly to the actual glow plug and grounded to one engine head bolt.

FEATURES:
Can be used on any single cylinder engine.
For use with any car, helicopter, plane or boat where the glow plug
is in a hard to reach spot or is close to a propellor.
Dust cover is attached with a pin and rotates left or right, opening
so glow driver can be inserted into the recessed socket.
Ignitor socket is made of black plastic.

INCLUDES:
One Pre-Assembled Remote Safety Ignitor with Attached Dust Cover

REQUIREMENTS:
Cutting a hole to mount external socket.
Cementing the housing in the hole using CA or epoxy glue.

SPECIFICATIONS:
Mounting Hole For External Socket: 11/16"
Wire Length: 23-1/2"
---
We Also Recommend