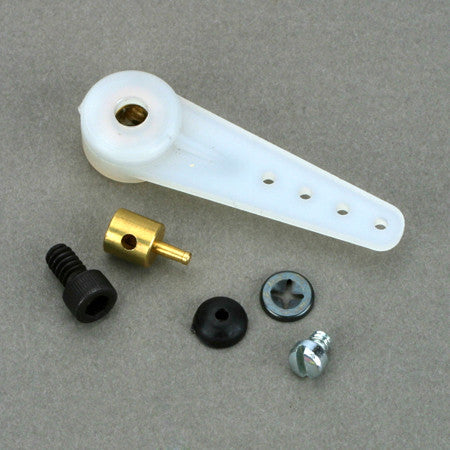 DUBRO STEERING ARM W/CONNECTOR
Item Number: DUB155

This is a Dubro Steering arm and connector set.
This arm is used to turn the nose gear on a 5/32" nose gear wire.

FEATURES:
White nylon arm
Brass collet and E-Z connector.

INCLUDES:
One nylon arm.
One brass collet.
One 3x6.5mm collet screw.
One E-Z connector with screw and mounting hardare.

REQUIREMENTS:
Assembly on 5/32" nose gear wire.

SPECIFICATIONS:
Length of arm: 40.3mm (1.589")
Thickness of arm: 7.6mm (.301")

COMMENTS:
Arm has 4 holes in it.
---
We Also Recommend