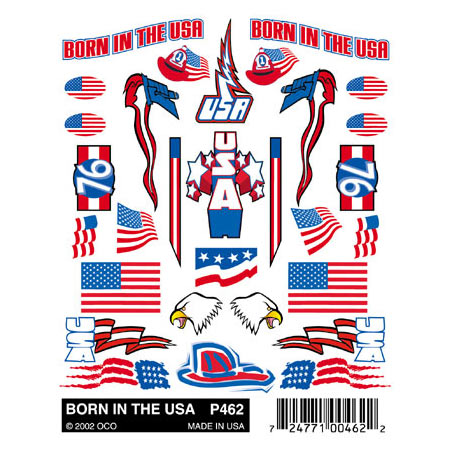 PINECAR Stick-On Decals, Born in the USA
Item Number: PIN462

"Born In the USA" is a set of Stick-On Decals from Pine Car.

FEATURES
High-quality accessories that give your PineCar a personalized look.
No mess...just peel and stick.
Decal colors: Red, White, Blue
Graphics include: USA flag, fireman's hat with USA flag, hand-held
flaming torch, eagle's head, and more.
Directions provided on package.

INCLUDES
One "Born In the USA" Decal Sheet

REQUIREMENTS
Scissors

SPECIFICATIONS
Sheet Size: 4" x 5"